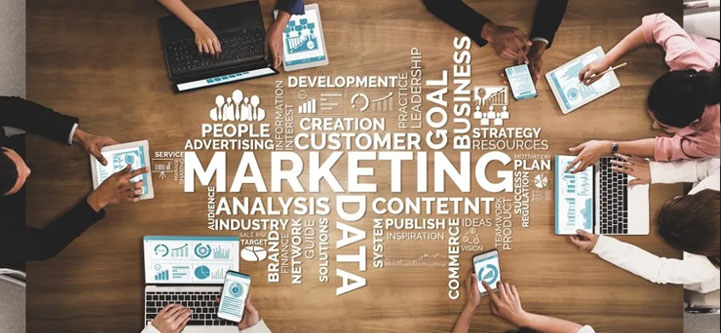 Marketing
The practice or services offered by the business products or administrations, including advertising and promotion, is defined as marketing. Today, marketing is an effective way of any industry's or organization's growth plan. As they attempt to advertise themselves and improve value of a product or service, many businesses adopt marketing strategies even without knowing it. Marketing is one of the most important components of organization nowadays.
When questioned, most people have no idea what marketing is and interpret it as promoting or branding. Since these responses are not incorrect, they are merely a component of the marketing process. Supply chain, advertising, building and generating materials like web blogs or social digital content, enhancing user experience, conducting market survey, forming target markets, and much more are all parts of marketing.
Marketing is a broad term that refers to any strategy that aids a business, brand, or someone in achieving their goals.
Marketing can benefit your business in a variety of ways, the most significant ones are as follows.
Increasing Brand Recognition
This is essential because it familiarizes folks with your company 's products or services you offer. This also makes you noteworthy to customers, who will initiate to trust your company, get to be good supporters, and spread the word regarding you.
Increasing Traffic
Increase in number of website visits means getting more high - quality leads (lead evaluation process can aid with this) and, eventually, growing your revenues. This will be aided by an effective marketing.
Generating Sales
Every company intends to improve their revenues, and advertising can help them do so via a range of strategies such as optimizing your content and Search engine optimization, creating marketing emails, running A/B assessments to identify the optimum tactic for you, and far more.
Increasing Brand Loyalty
Building relationships in your product increases customer loyalty and customer retention. This mostly generates revenue but also leads to better feedback both available on the internet and through recommendations from friends, and this is on of the most effective forms of marketing.
Keeping Track of Your Metrics
Metrics are extremely useful when planning and developing. People not only push the strategic plan and assist in tracking its improvements, but they also notify what can be modified or modified to continuously optimize your ad campaign.